Analogue timer for DIN-rail
TAS2-30S/24V
T=(0.5sec - 30sec), Us=24V ac/dc, Output 4A/220V, 86x35x58mm
The analogue timer TAS2-30S/24V is used for switch-off and on electrical circuits for a fixed time interval "T" in the range from 0.5 to 30sec, set by means of a potentiometer. The timer is started by turning on the supply voltage. It can be started also by means to external switch (sensor). The time-relay can function in a cyclical mode (as multivibrator) by selecting an appropriate combination of the key switch. The timer can also be used as a device for speed control. The analogue time-relay is designed for DIN rail installation.
Option: T=(0 ÷ 3 sec); (0 ÷ 6 sec); (1 ÷ 60 sec); (0.05 ÷ 3 min); (0.2 ÷ 10 min)
The TAS2-30S specialized analogue timer is designed for mounting on DIN-rail M35 and combines two functional devices:
1. Standard analogue timer (Timer)
It is used to switch electrical circuits at certain interval of time "T", which is set by the help of potentiometer. It starts by turning on the supply voltage or by negative impulse at the input of the device - terminal 7 (fig.3, 4, 5). By the key switch-over (fig.1) could be chosen one of the four operating modes (fig.2).
2. Speed control device (Speed controller)
The timer can be used to control the movement speed of transport lines. Electric impulses are sent from the rotating wheel of the transport line to the device by the help of switch. If the time "t" - between two consequent impulses exceeds the time set by the device "T", then the output timer turns off.
| | |
| --- | --- |
| Time range, T | 0,5 … 30 sec |
| Supply voltage, Us | 24 V (21÷28 VDC; 19÷26 VAC) |
| Power consumption, P | 0,6 W (24 mA) |
| Output - Relay (NO+NC) | 4A / 220VAC |
| Error in time measuring | ±5 % |
| Operating temperature range, Tamb | -20º...+50º C |
| Degree of protection | IP40 |
| Joining | Terminal block |
| Overall dimensions | 86x35x58 mm, DIN35-35 |
Fig.2
The diagram shows the four operating modes of the TAS2-30S analog timer and how to select them using the key switch.
Schemes of connection of a sensor to the device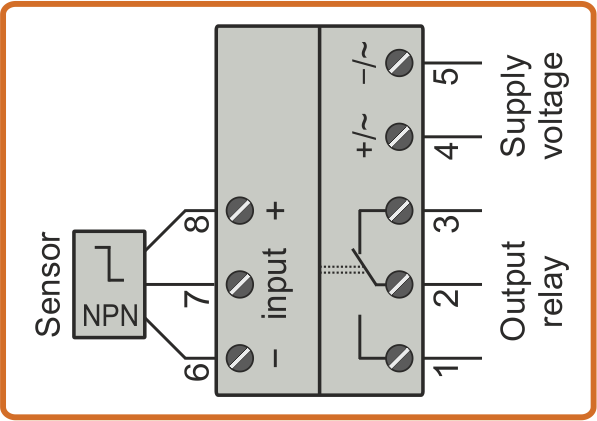 Fig.3
Starting with 3-wire sensor, type NPN
Fig.4
Start with 2-wire sensor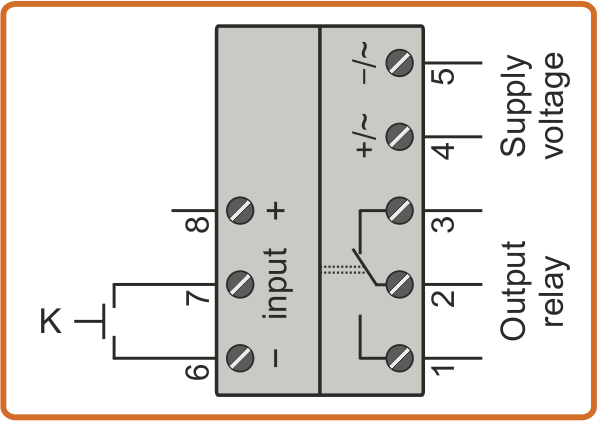 Fig.5
Start with switch K "dry contact"
The analogue timer - time-relay series TAS2 is electronic device which is used as automation equipment's of production processes. It serve for switching of direct current and alternating current electric circuits.
TYPE PARAMETERS OF TAS2-30S TIMER RELAY
| TYPE | POWER SUPPLY VOLTAGE | CONSUMPTION |
| --- | --- | --- |
| TAS2-30S / 12V | 11÷16VDC / 10÷15VAC | 0.4W (35mA) |
| TAS2-30S / 24V | 21÷28VDC / 19÷26VAC | 0.6W (24mA) |
| TAS2-30S / 220V | 220VAC ±10% | 11W (47mA) |