Digital length counter
LMD6-8R/220V
L=(-999.95 ... 9999.95 mm), Us=220V ac/dc, 95x49x113mm
The LMD6-8R/220V reversing controller for length measurement is a microprocessor device with a 6-digit display. There is no relay output and it is used for measuring and visualizing lengths in the range from -999.95mm to 9999.95mm. It has two inputs "A" and "B" and operates together with a sensor type "NPN" with two phase-shifted outputs (OVM1-18.24.F). The controller saves its current data in the event of a power failure. The device is designed for installation in a dashboard (panel montage).
The LMD6-8R reversible digital controller is used to measure and visualize linear lengths. Shows both positive and negative lengths, which are indicated in millimeters. The controller has two counting inputs A and B, and is designed to operate in a system consisting of an optoelectronic sensor type OVM1-18.24.F (with two phase-shifted outputs) and a measuring ruler with a raster of 0.5mm (Fig. 1). The length measuring controller has three operating modes (I, II and III), which determine the discreteness when reading the length: 1mm, 0.5mm and 0.25mm. Switching from one mode to another is done by pressing and holding the "Reset" button for six seconds. There is a variant LMD6-8RC indicating the length in centimeters (on request). Analog output 0...4V (on request).
| | |
| --- | --- |
| Digital indication, LED - red | 6 digits, h=10 mm (height) |
| Measuring range in mode ( I ), L | -99999 … 999999 mm |
| Measuring range in mode ( II ), L | -9999,5 … 99999,5 mm |
| Measuring range in mode ( III ), L | -999,75 … 9999,75 mm |
| Supply voltage, Us | 220 VAC ±10% |
| Power consumption, P | 4 W (16 mA) |
| Maximum counting frequency, Fmax | 11 kHz |
| Operating temperature, Tamb | -20º...+50º C |
| Degree of protection | IP40 |
| Joining | Terminal block |
| Overall dimensions | 95х49х113 mm |
Fig.1
Fig.2
Connecting an NPN encoder to the counter input
PNP encoder connection diagram
Fig.3
Connect a PNP encoder to the counter input by adding two 2K / 0.5W resistors.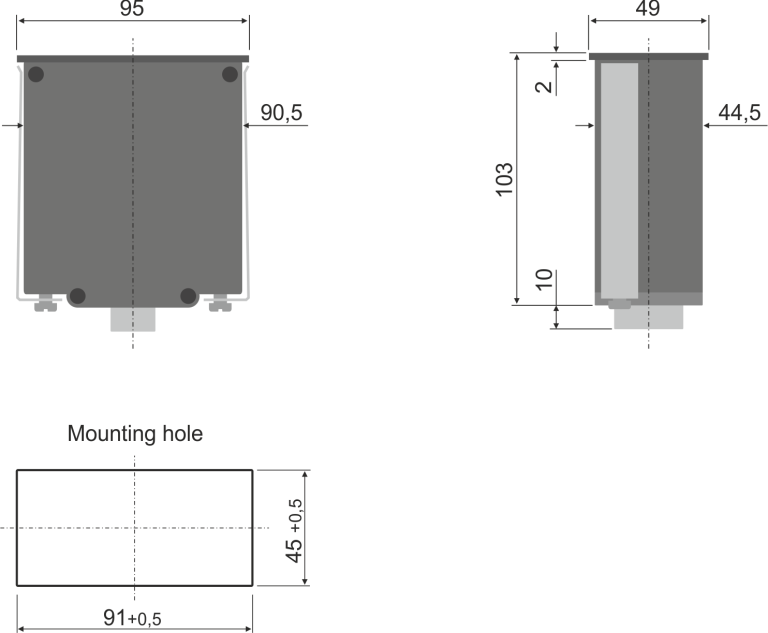 The reversible LMD6-8R digital length meter used as a means of automating production processes for measuring quantitative values. Used to visualize positive and negative displacements.
Typical parameters of the length counter LMD6-8R
| TYPE | SUPPLY VOLTAGE | CONSUMPTION |
| --- | --- | --- |
| LMD6-8R / 12-24V | 11÷31VDC / 11÷27VAC | 2W (85mA) |
| LMD6-8R/ 220V | 220VAC ±10% | 4W (16mA) |