Inductive proximity sensor
P9-95.62.S
Sn=5.5mm, 4-wire with three outputs PNP/NC, 8-30VDC, 20mA, 95x26x14mm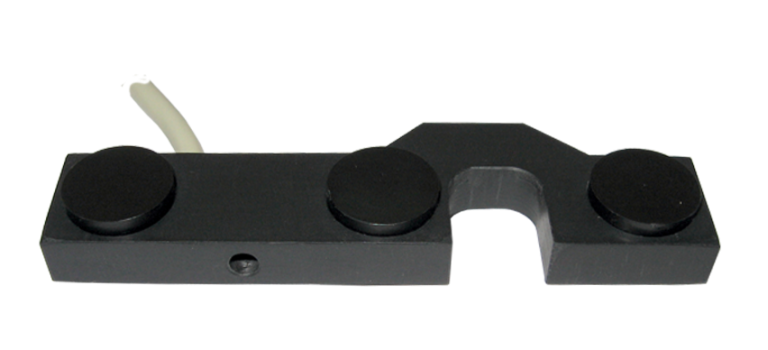 Unshielded type proximity sensor for direct current with plastic housing 95x26x14mm, with three outputs type PNP, with three normally closed contacts. The maximum distance of operation of the proximity sensor is 5,5mm. The sensor ends with a 4-wire PVC connecting cable with a length of 2m. Since the sensor acts as a variable resistance in the circuit in which it is included does not have LED indication and the sensor's outputs are not protected of overload and short circuit.
This is a direct current inductive sensor type P9-95.62.C, which is used in the textile industry. It has three PNP normally closed outputs that act as a variable resistor in the electrical circuit in which they are connected. The three outputs are independent of each other and are included to a common plus. Each of the outputs increases its resistance when a metal object approaches the corresponding active part of the sensor.
| | |
| --- | --- |
| Operating distance, Sn | 5,5 mm |
| Hysteresis, h | 4-15% |
| Supply voltage, Us | 8…30 Vdc (Ripple ±10%) |
| Residual voltage (max), Ures | 3,6 V (I = 7 mA) |
| Load current (max), Iout | 20 mА |
| Current consumption, Is | 0,85 mA |
| Switching frequency (max), fo | 2 KHz (Sn=2,5 mm) |
| Fall time and Rise time, tf / tr | 200 µs / 200 µs |
| Operating temperature range, Tamb | -25º…+70º C |
| Degree of protection | IP67 (IEC144) |
| Output light indicator | No |
| Connection cable | 4x0.25 mm², L=0.5 m, PVC |
| Overall dimensions | 95x26x14 mm |
| Housing - plastic | PVC |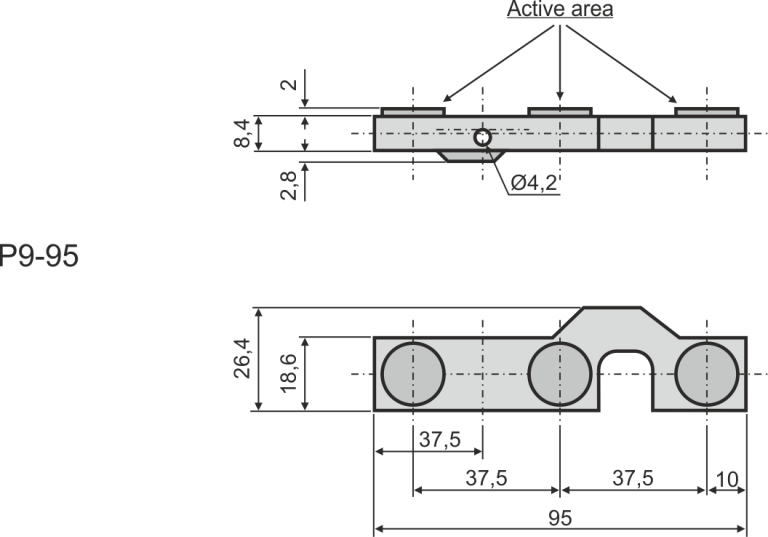 The unshielded type of proximity inductive sensor P9-95.62.S, is used mainly in the textile industry, as an automation tool for switching direct current electrical circuits. The proximity inductive sensor is moisture and dust resistant and has a long service life thanks to the non-contact switching of the electrical circuits in which it is included.