Fork type photoelectric sensor for labels
OVP4-70.10.RKT
Sn=10mm, PNP/NO+NC, 9÷36VDC, 250mA, 70x24x35mm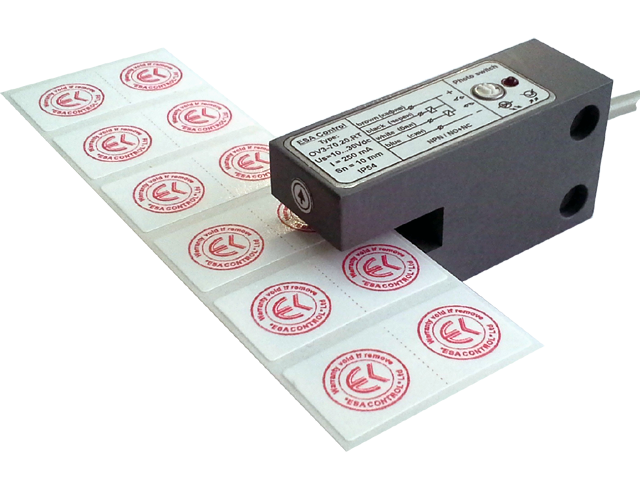 The OVP4-70.10.RKT fork type photoelectric sensor for labels sensor for direct current consists of a receiver and transmitter which are located in a plastic housing 70x24x35mm. It works with red light and is used for counting and positioning labels. The output of the optical fork sensor is PNP type with one normally open and one normally closed contact. The width of the air slot of the optical sensor is 10mm. The optoelectronic slotted sensor ends with a 4-wire PVC connecting cable with a length of 2m and has an LED indicator showing the output state of the optical sensor. The fork sensor is protected against incorrect cable connection, current overload and short circuit of the outputs.
Application and operating principle
The OVP4-70 fork type optoelectronic sensor for labels consists of a transmitter and a receiver located in one housing. The principle of operation consists in the emitting and the receiving a modulated light ray in the visible area of the spectrum. The fork sensor is used in labelling machines for positioning and counting of labels located on a transparent or translucent carrier tape. The distance between the labels should not be less than 1mm. The optoelectronic fork sensor can register labels moving at speeds of up to 200 pcs./sec. The optical sensor output indicator lights up when there is no label in the slot between the transmitter and the receiver.
| | |
| --- | --- |
| Operating distance (slotted width), Sn | 10 mm |
| Supply voltage, Us | 9…36 VDC (Ripple ±10 %) |
| Residual voltage (max), Ures | 0,8 V (I = 250 mA) |
| Load current (max), Iout | 250 mА |
| Protection of output (scanning), Iprot | 350 mA (25°С) |
| Current consumption, Is | 10 mA |
| Switching frequency (max), fo | 200 Hz |
| Spectrum area of operating | 640 nm (red light) |
| Operating ambient illumination | 3'000 Lx |
| Operating temperature range, Tamb | -10°…+50° C |
| Degree of protection | IP54 |
| Light output indicator | LED |
| Connection cable | 4x0.25 mm², L=2 m, PVC |
| Overall dimensions | 70x24x35 mm |
| Housing - plastic | PVC |

The OVP4-70 photoelectric and optoelectronic fork type sensor for labels which is used in industrial systems, as electronic automation equipment for switching at 3-wire and 4-wire electrical circuits of direct current. The optical sensor is activated when a label passes through its air slot. The photoelectric fork sensor there is a longer period of work due to contactless switching of the electrical circuits in which is included.
TYPE PARAMETERS OF SLOT PHOTOELECTRIC SENSORS OVP4-70, DC
| TYPE | OUTPUT FUNCTION |
| --- | --- |
| OVP4-70.10.RKT | PNP / NO + NC |
| OVP4-70.20.RKT | NPN / NO + NC |